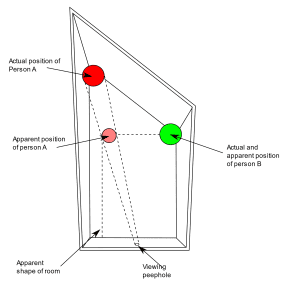 Our client contacted us to manufacture an Ames Room, an optical illusion that gives the impression to the viewer that objects or people are changing size in front of their eyes.
Often used in cinema as a special effect, the Ames Room we were looking to create would show two athletes training with various sized objects using the concepts of forced perspective. The room would also be used at a press event, so would need to be able to be deconstructed, moved to a second location and rebuilt.
To begin, we had to prove the concept of the Ames Room. We used a small-scale card model to work out the size of the room, with the client specifying how the interior should be decorated. Once we'd proven the concept and worked out the dimensions for the finished piece, we could then design the room in CAD. This allows us to mock up, modify and perfect the design before manufacture begins.
With the design drawn up as a CAD model, we could then start manufacturing. We had to make the frame in parts small enough to fit through a standard doorway, so CAD modelling allowed us to test this out before manufacture began.
Manufacturing an Ames Room involves working with some quite complex carpentry; the floor of the room needs to be angled, and no two walls are the same size or height. If you get the angles wrong, the optical illusion doesn't work. We manufactured the frame of the room from timber batons and clad the walls using MDF boards, giving us a strong base to decorate.
Once the room was built, we then needed to install doors and windows at the same angle as the walls they'd be located on.
Once we'd installed the bespoke angled doors and windows, we decorated the room to complete the effect. The angled floor had angled lines cut into it, giving the impression of square concrete tiles when a viewer looked at the scene.
Once the room was complete, our client came to site to film a short advert, utilising the optical illusion of the Ames Room (and some bespoke props) to make two athletes appear to be vastly different sizes. To view the advert, click here.
Alongside manufacturing the Ames Room, we also made an oversized dumbell for the shoot; this was used to further show the effect of the optical illusion in the room. We made this by using our 5-axis CNC milling machine to cut polystyrene into the shape of the dumbell and it's handle, before gluing them together and painting them in our spray booth.
We then needed to dissassemble the room, transport it to a second location, traverse stairs and doorways, before then rebuilding the room; because we'd planned for this in CAD, we didn't have any nasty surprises of pieces not fitting through doorways.
To see how JH May Models and Prototypes can help you with your next project, get in touch by calling us on 01277 365500 or email [email protected]. For more information on some of our other large models and installations, visit www.jhmay.com/model-makers/large-model-makers/